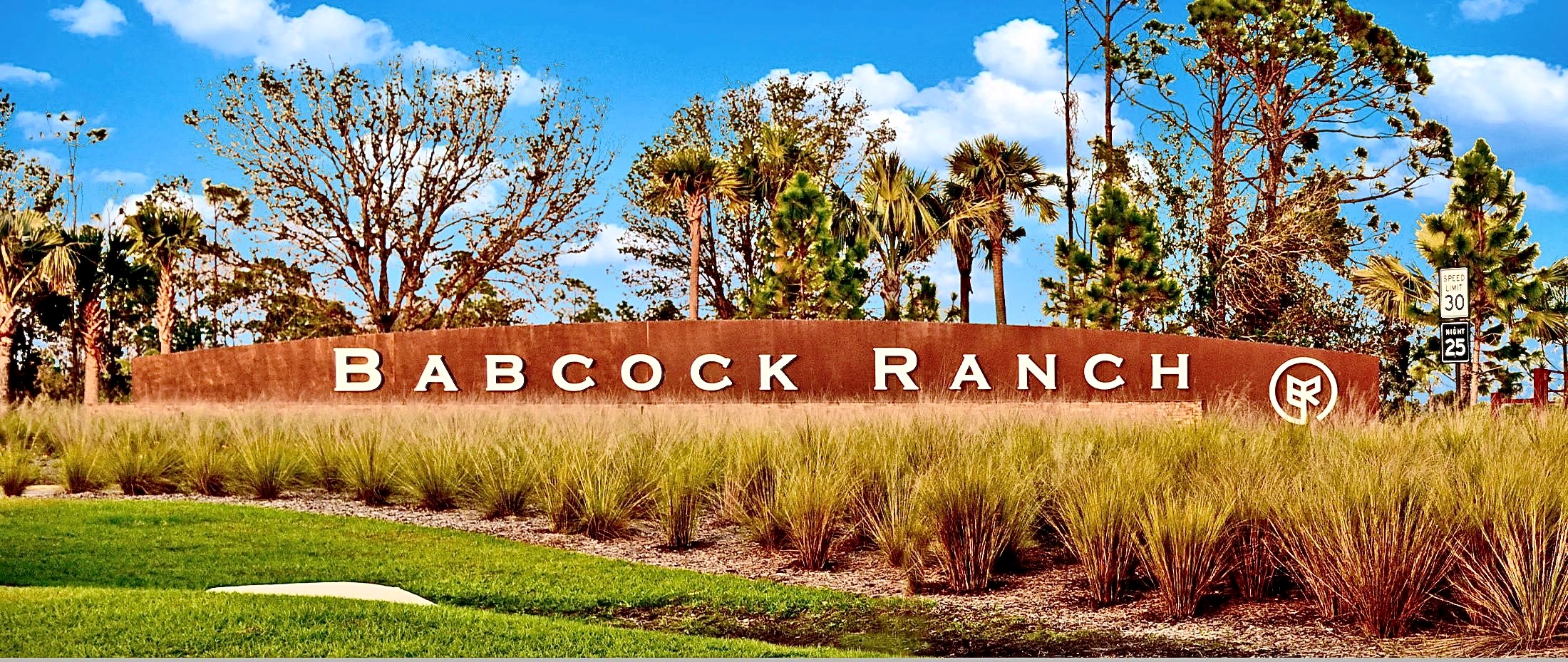 (Welcome to Babcock Ranch - Click on Introduction video above)
Located in Charlotte County and Lee County, Babcock Ranch is a master planned community in Southwest Florida east of the Fort Myers - Punta Gorda area. It is one of the most innovative and sustainable new communities in Florida and is America's first solar-powered town. It occupies 67,618.81 acres in southeast Charlotte County, approximately 17.6 miles east of Punta Gorda and 34 miles west of Lake Okeechobee. It represents one of the single largest purchases of conservation land in the state's history.
"BORN FROM A LOVE AFFAIR WITH THE LAND"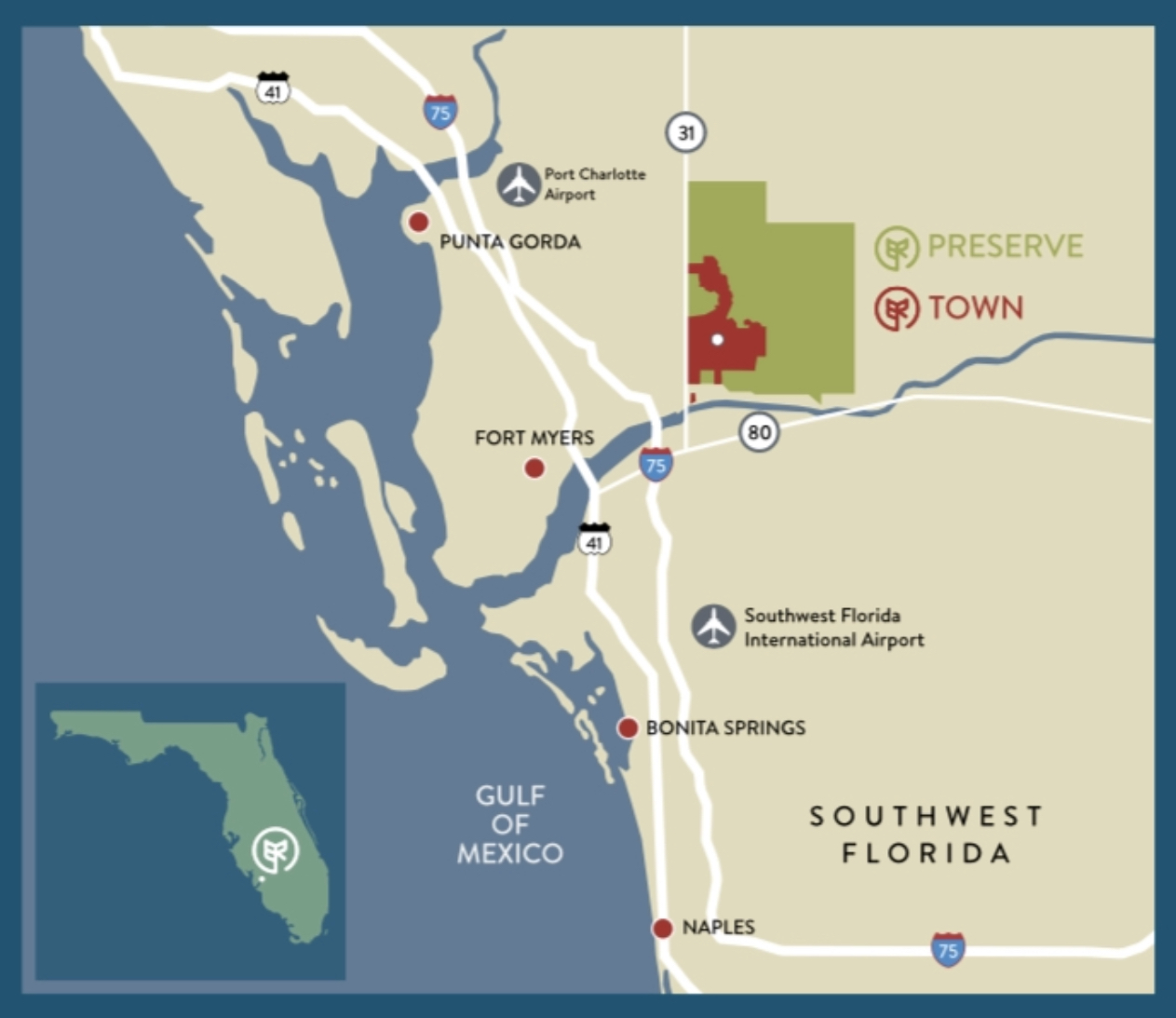 50% of Babcock Ranch's footprint is set aside for green spaces, and we've intentionally developed our town to include stewardship, sustainability, preservation and restoration as key design features. More than 90% of Babcock Ranch is built upon already impacted pasture, farm and rock-mined land, and developments are surrounded by areas that will remain forested.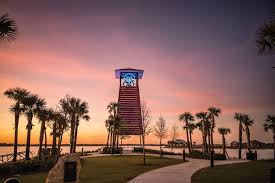 Water conservation is woven into the green infrastructure of Babcock Ranch. From landscaping with native, low impact plants to constructing a weir system to restore historical hydraulics of the Curry Lake Preserve ecosystem and rehydrate surrounding wetlands. This area is now home to a thriving ecosystem. Native vegetation has reclaimed the land from invasive species, crayfish have returned to its waters, and hosts of birds once again call Curry Lake home.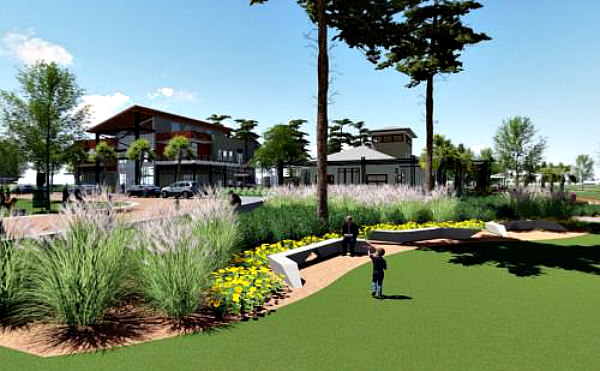 Sustainability is at the heart of Babcock Ranch, and these environmental investments are just one of the ways we've designed our town to live in harmony with the land. Our homes are all built to Florida Green Building requirements, with community-wide standards for energy-efficiency, conservation, and low-impact landscaping.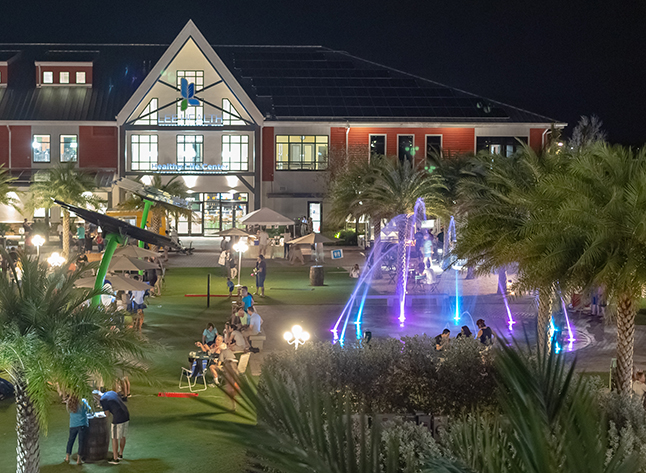 Neighborhood parks, community gardens, expansive trails for alternative transportation provide ways for residents to connect with their neighbors and our environment. Through these sustainability efforts, Babcock Ranch provides residents with a greener way of life and builds upon the Babcock family's careful stewardship of the land and surrounding preserve areas.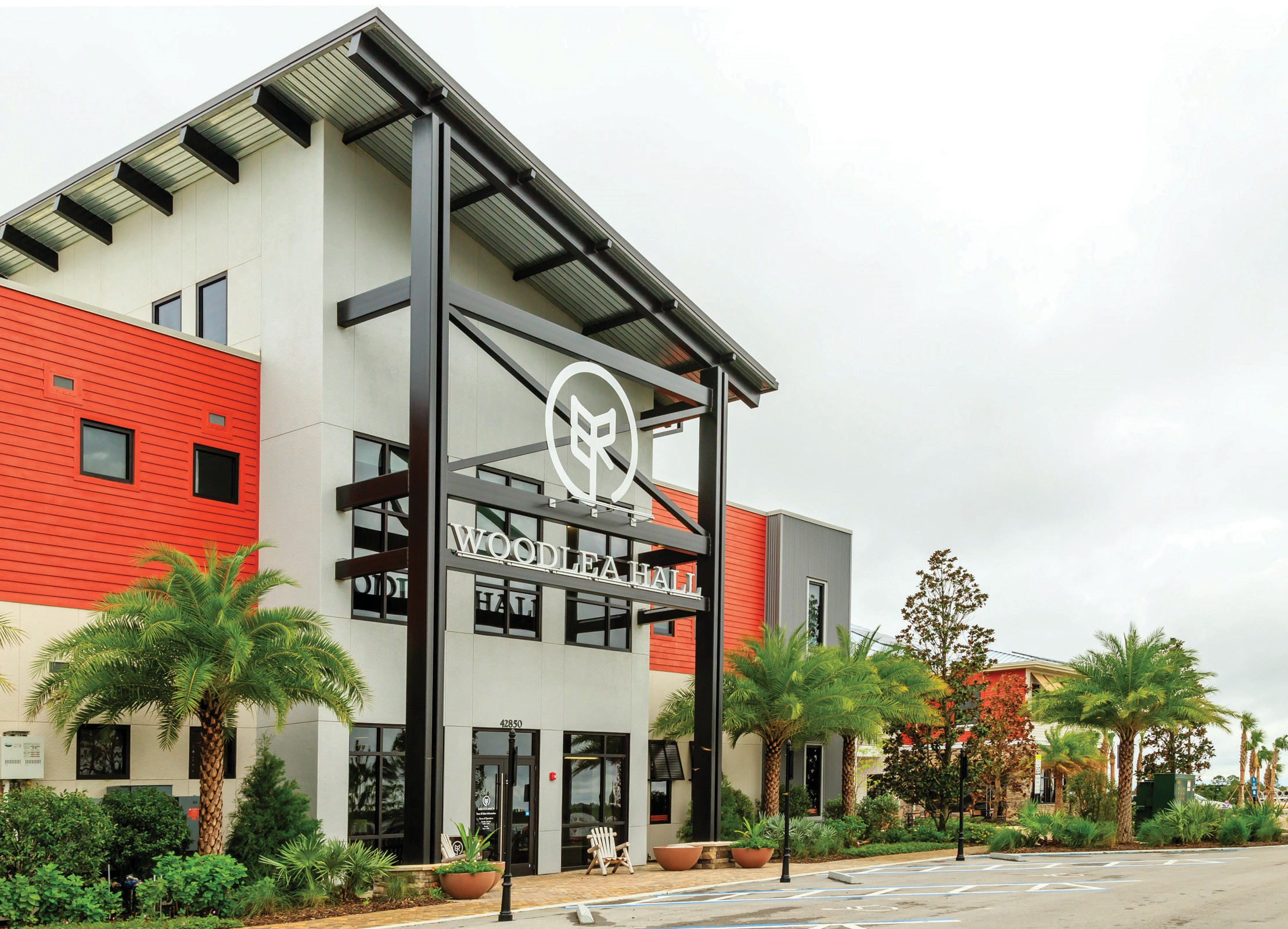 The Developer's First Impression of Babcock Ranch (video below)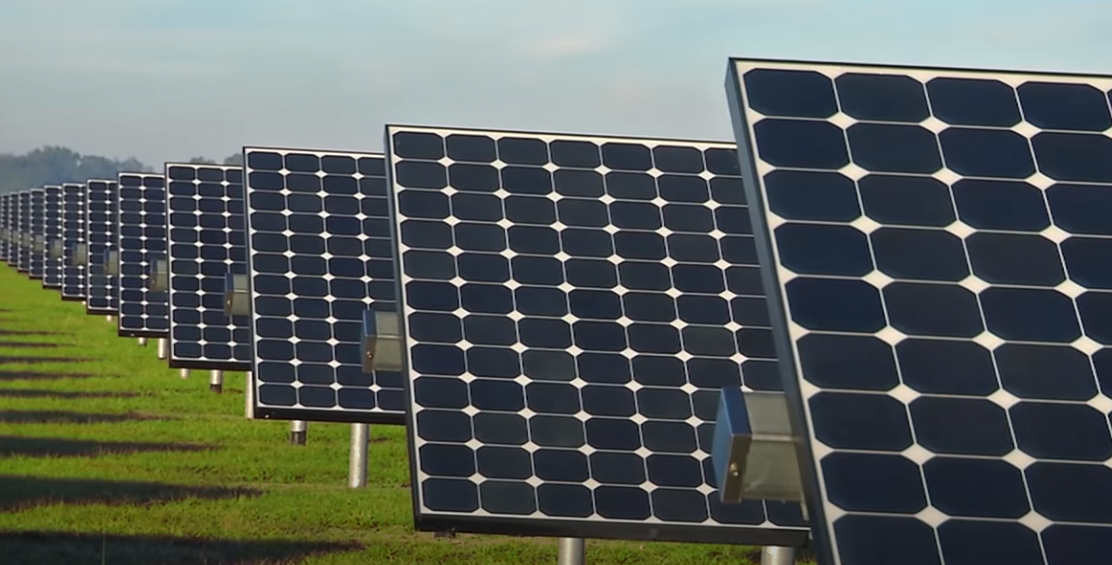 CLICK BELOW TO VIEW ALL THE HOMES CURRENTLY LISTED IN BABCOCK RANCH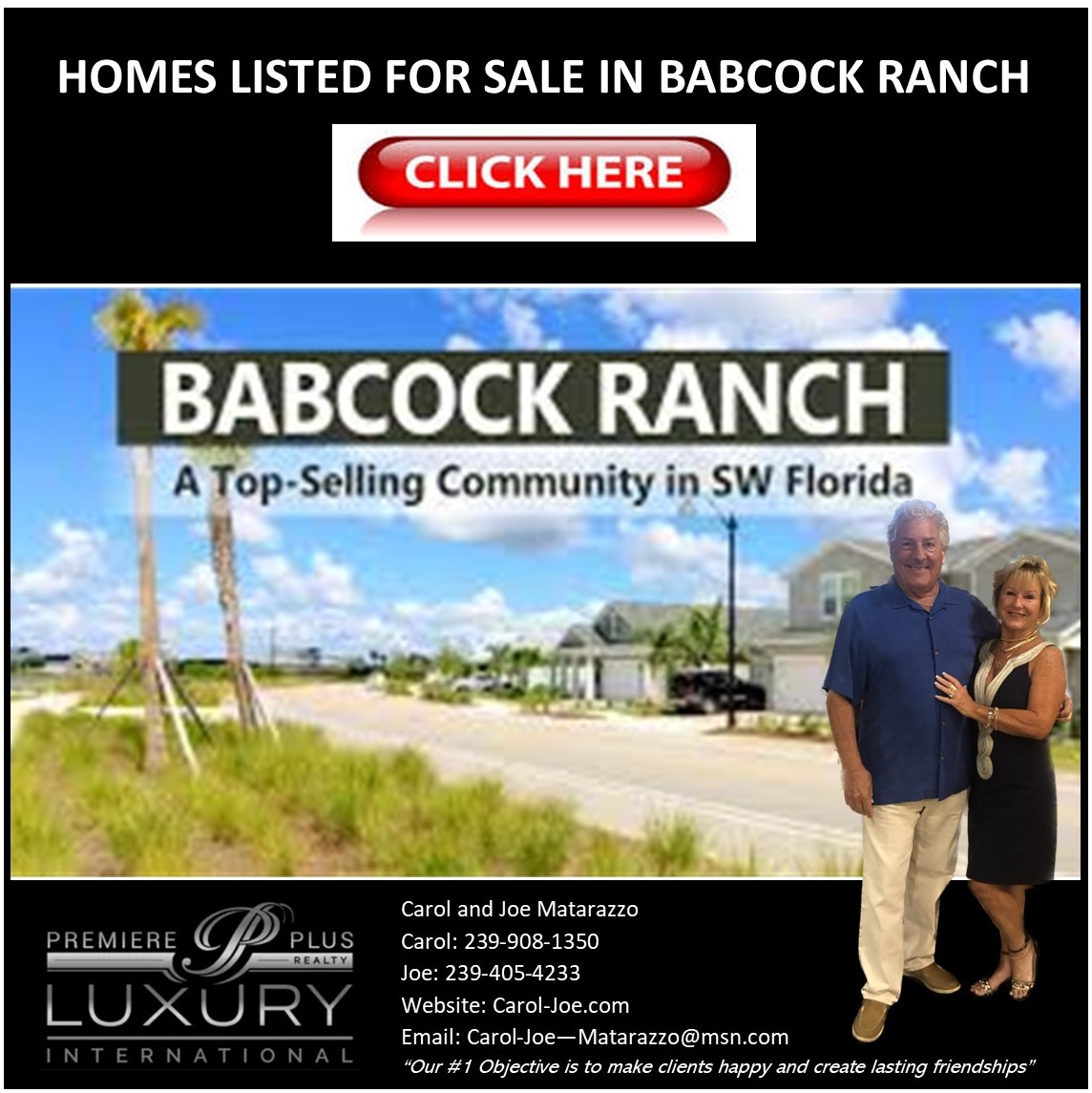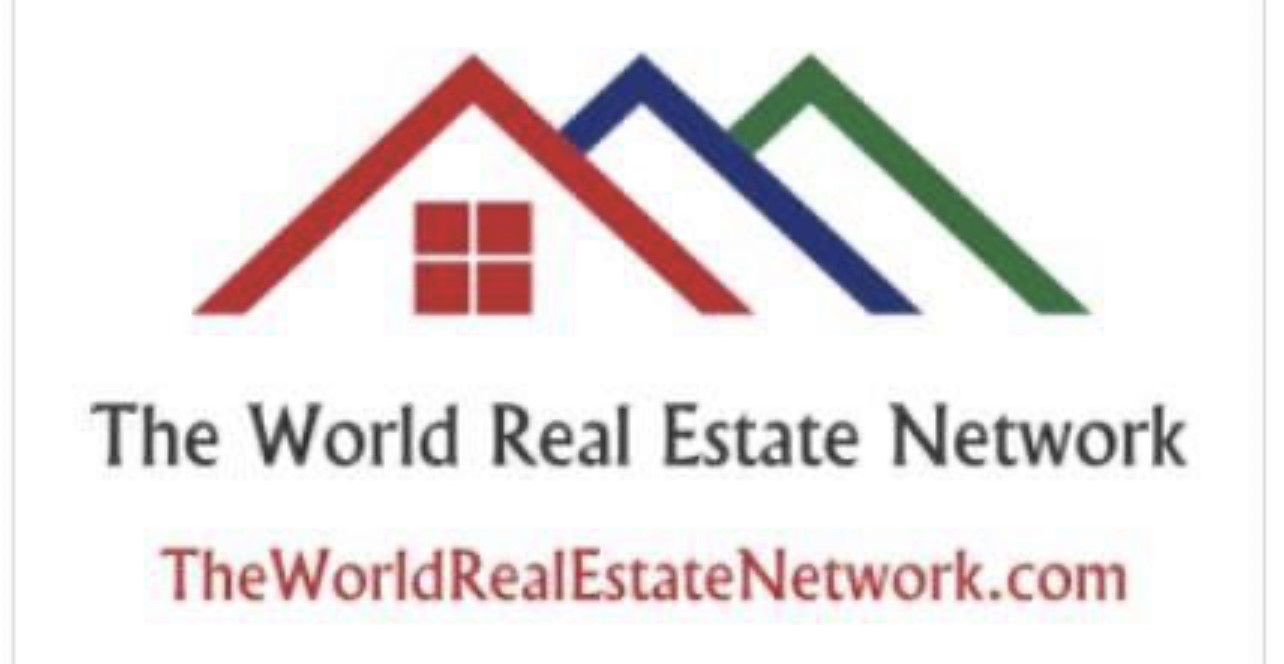 We are proud to have been selected as the "Preferred Realtors and Group Experts for Babcock Ranch, by the Internationally known Robert J. Russel "Moving to Florida" organization, a division of The World Real Estate Network.


"MORE ABOUT LIVING IN BABCOCK RANCH"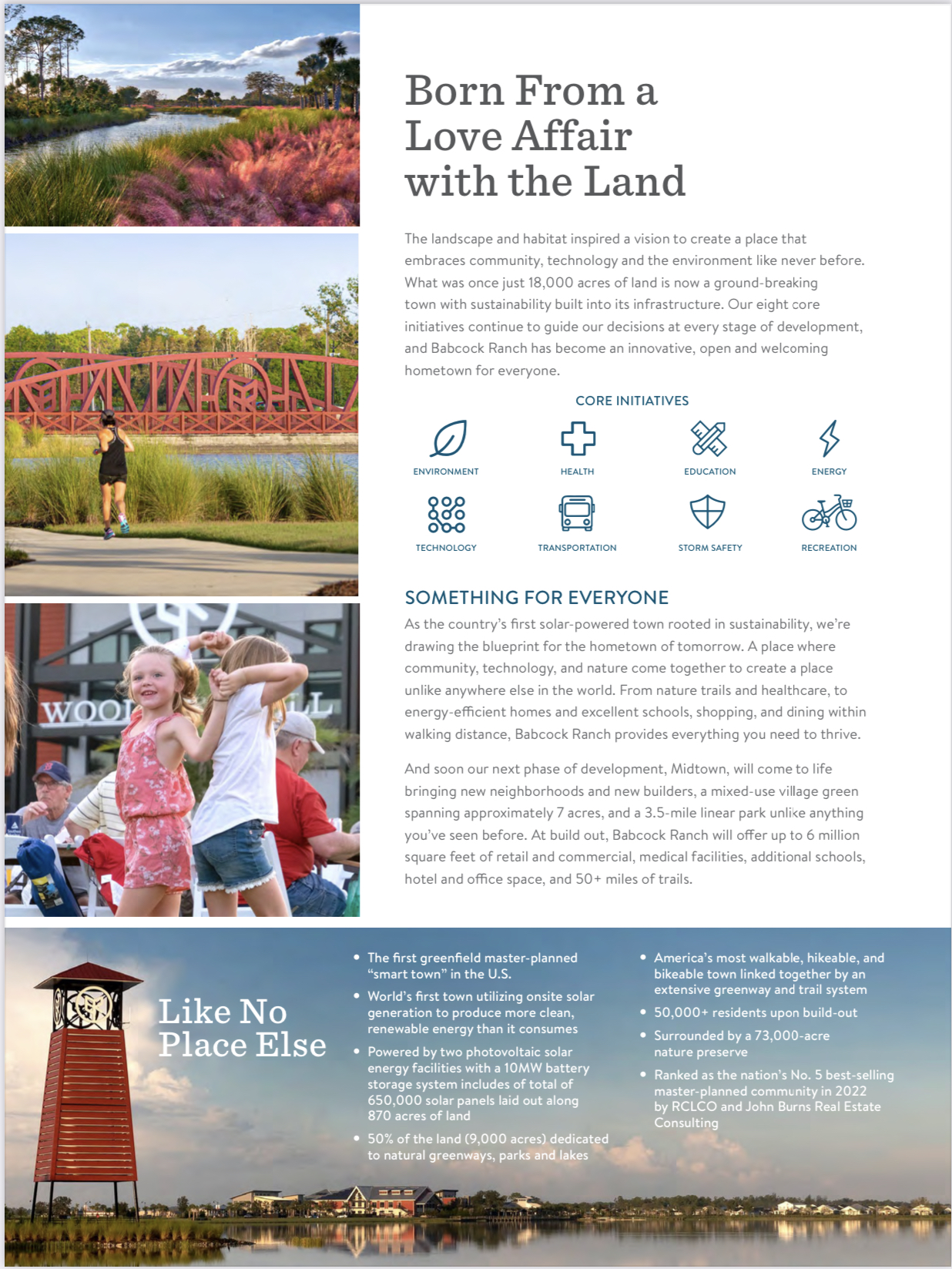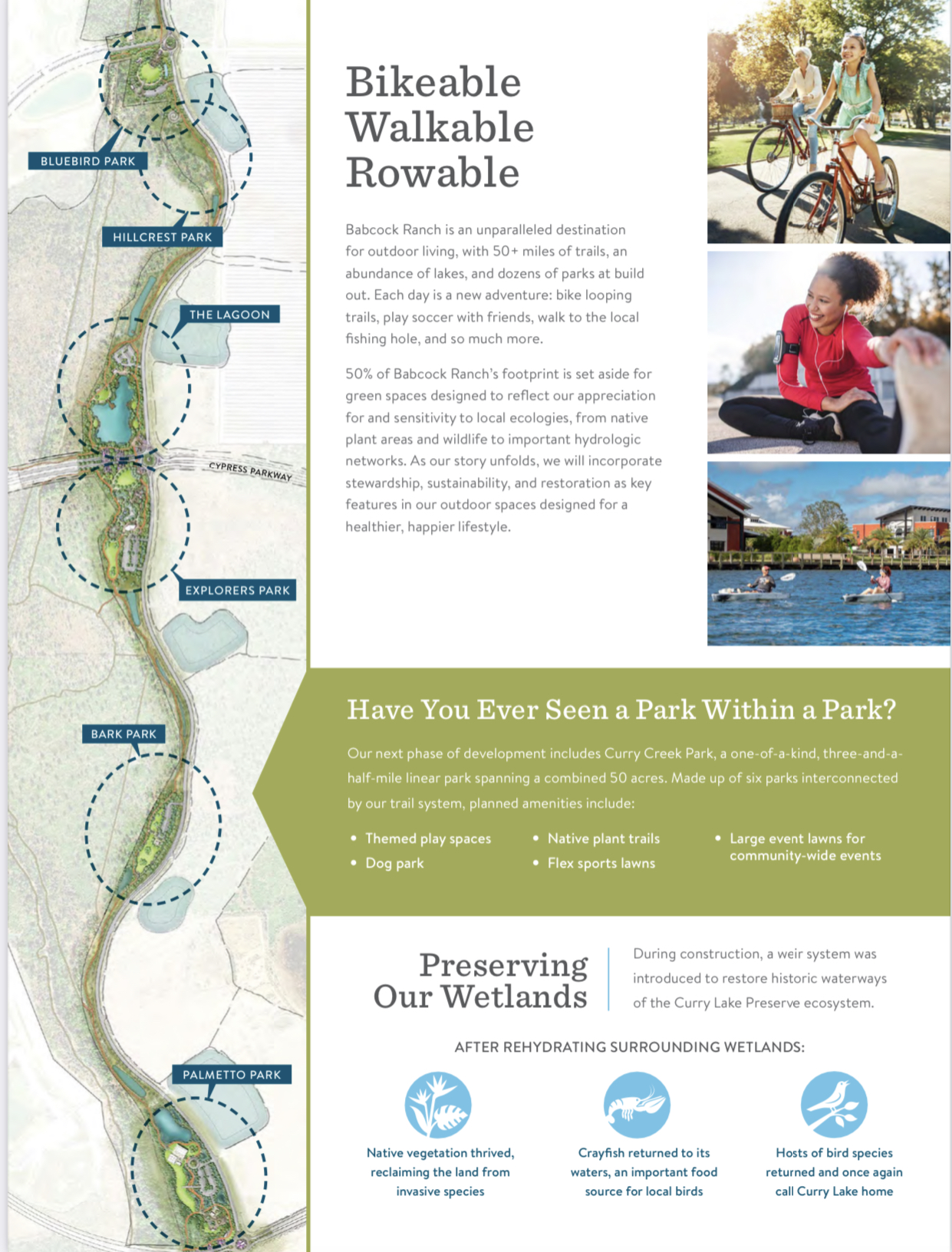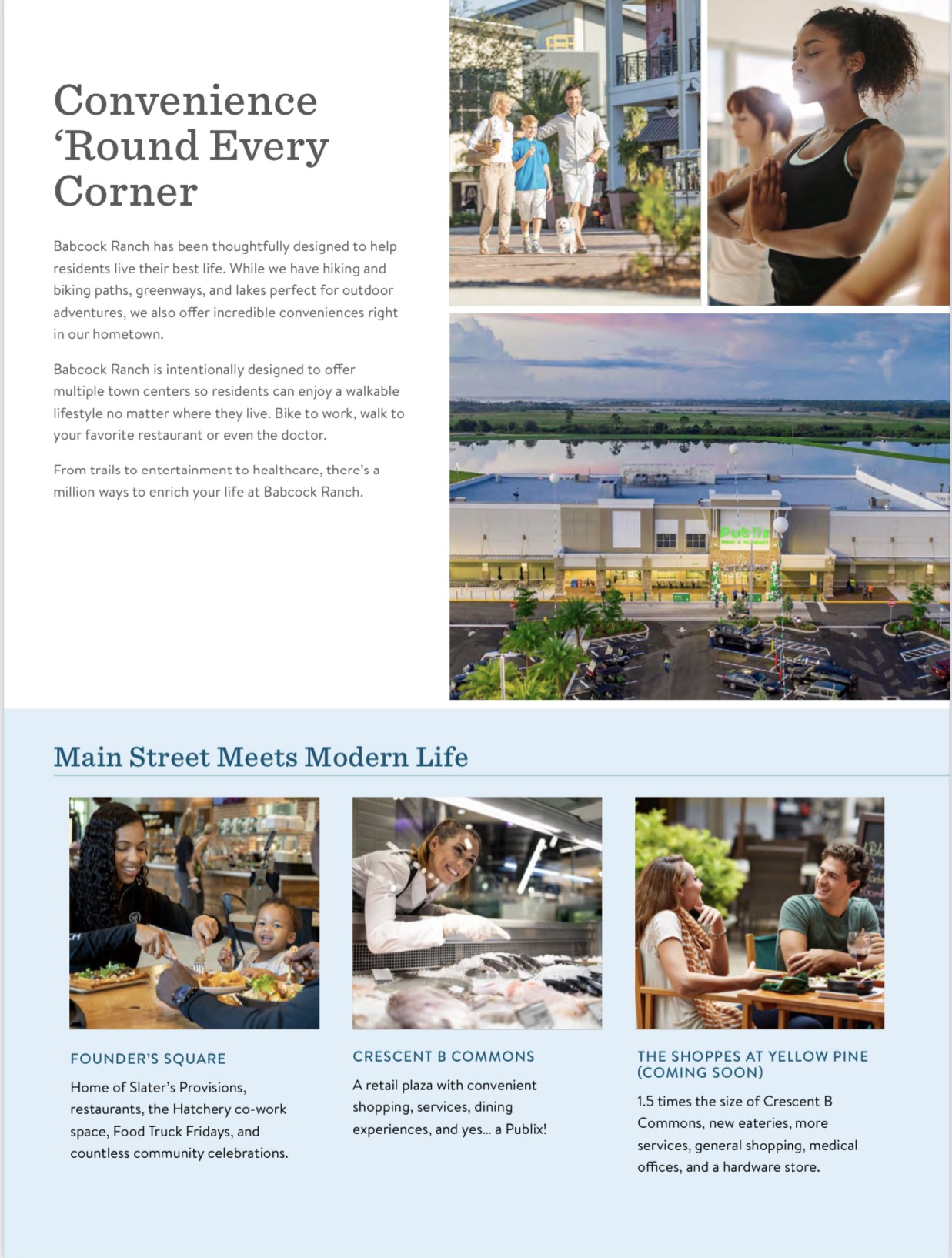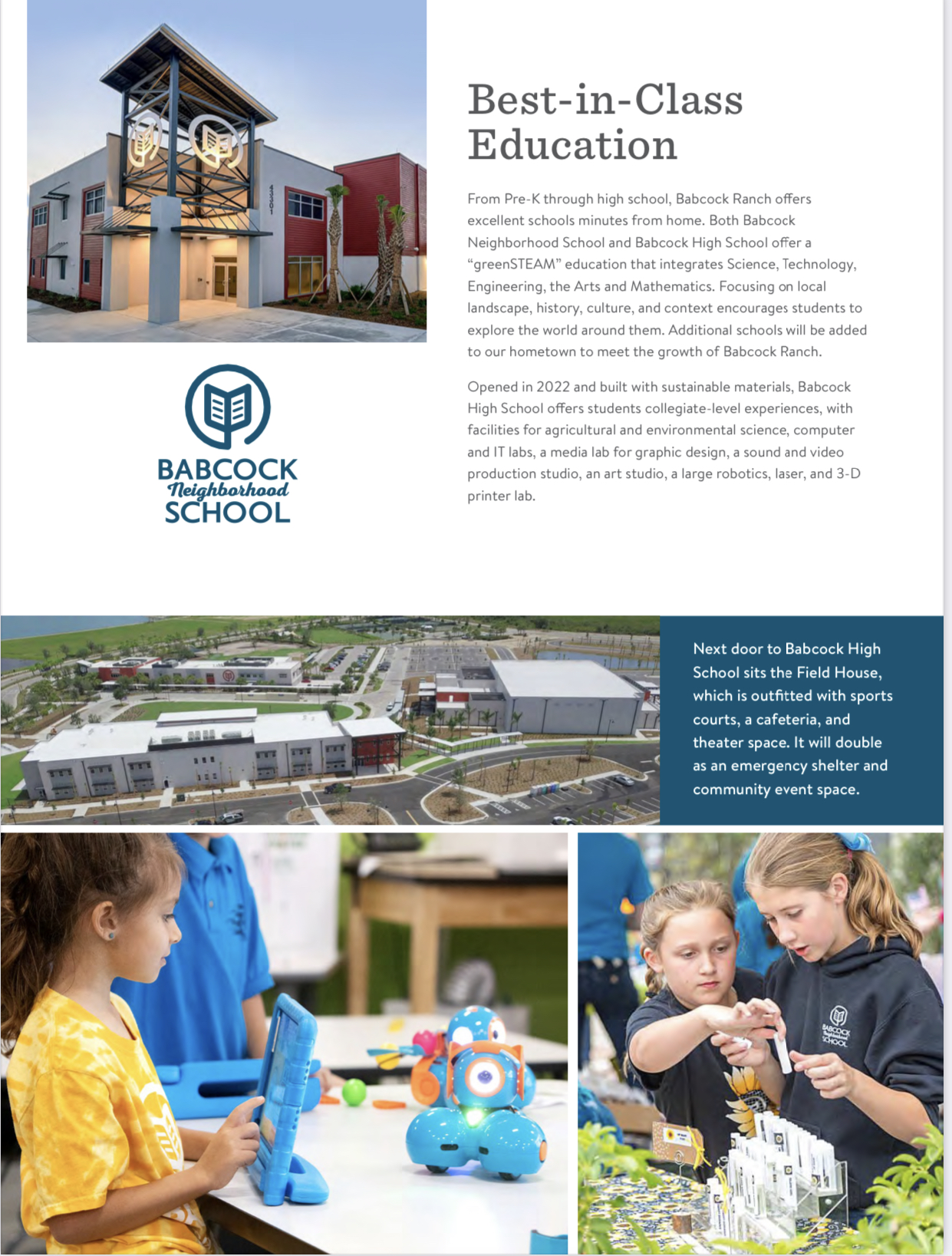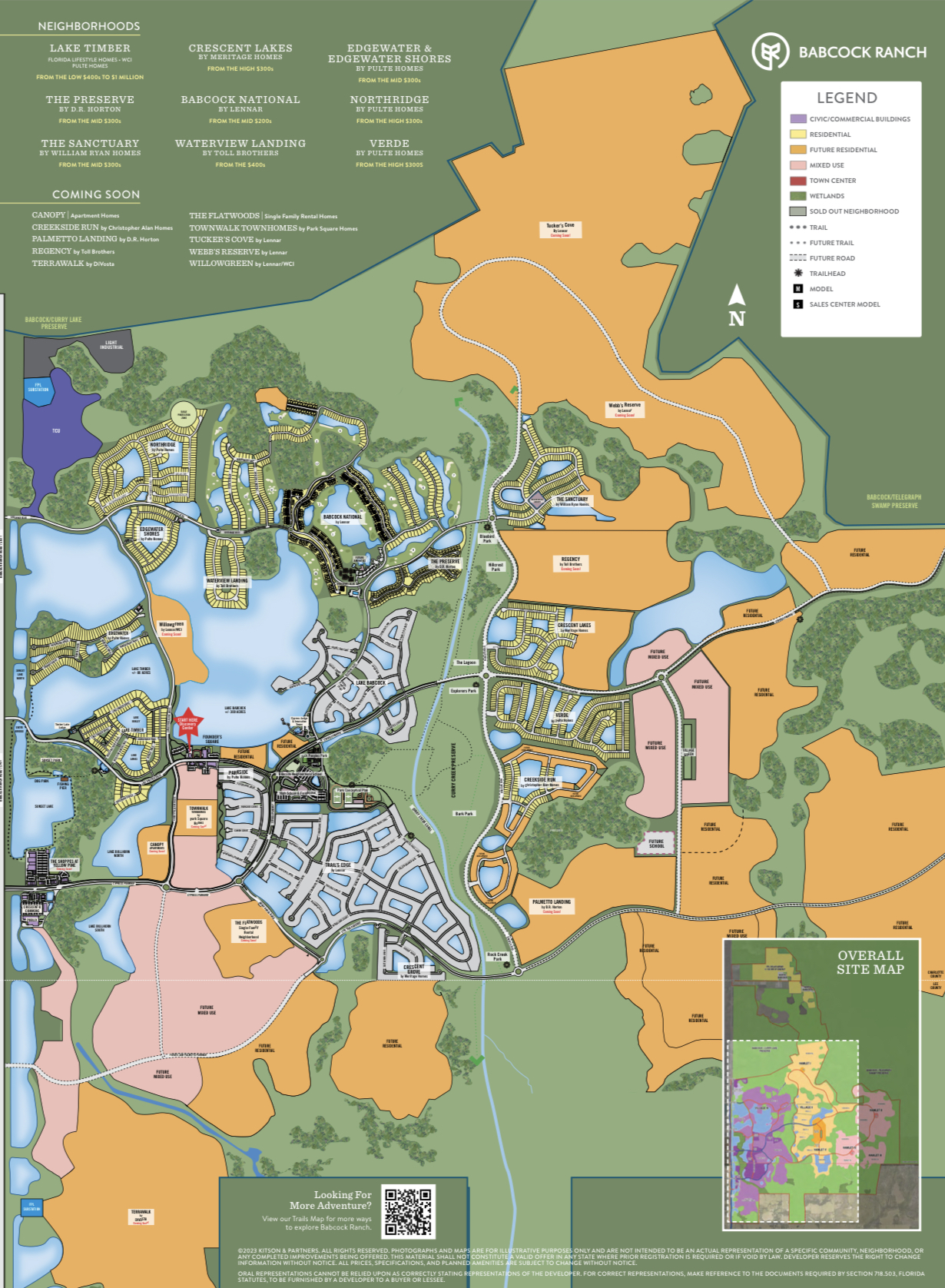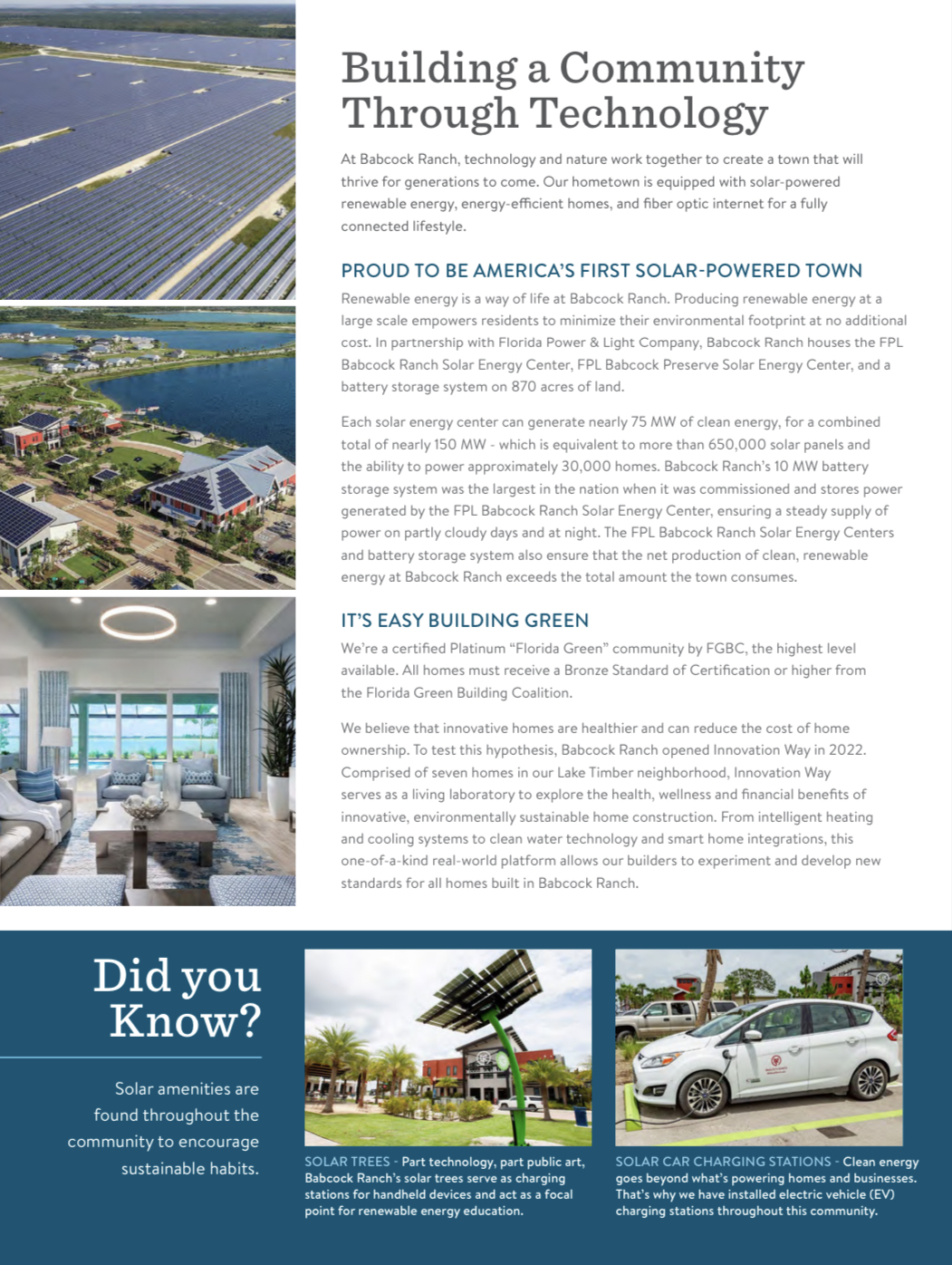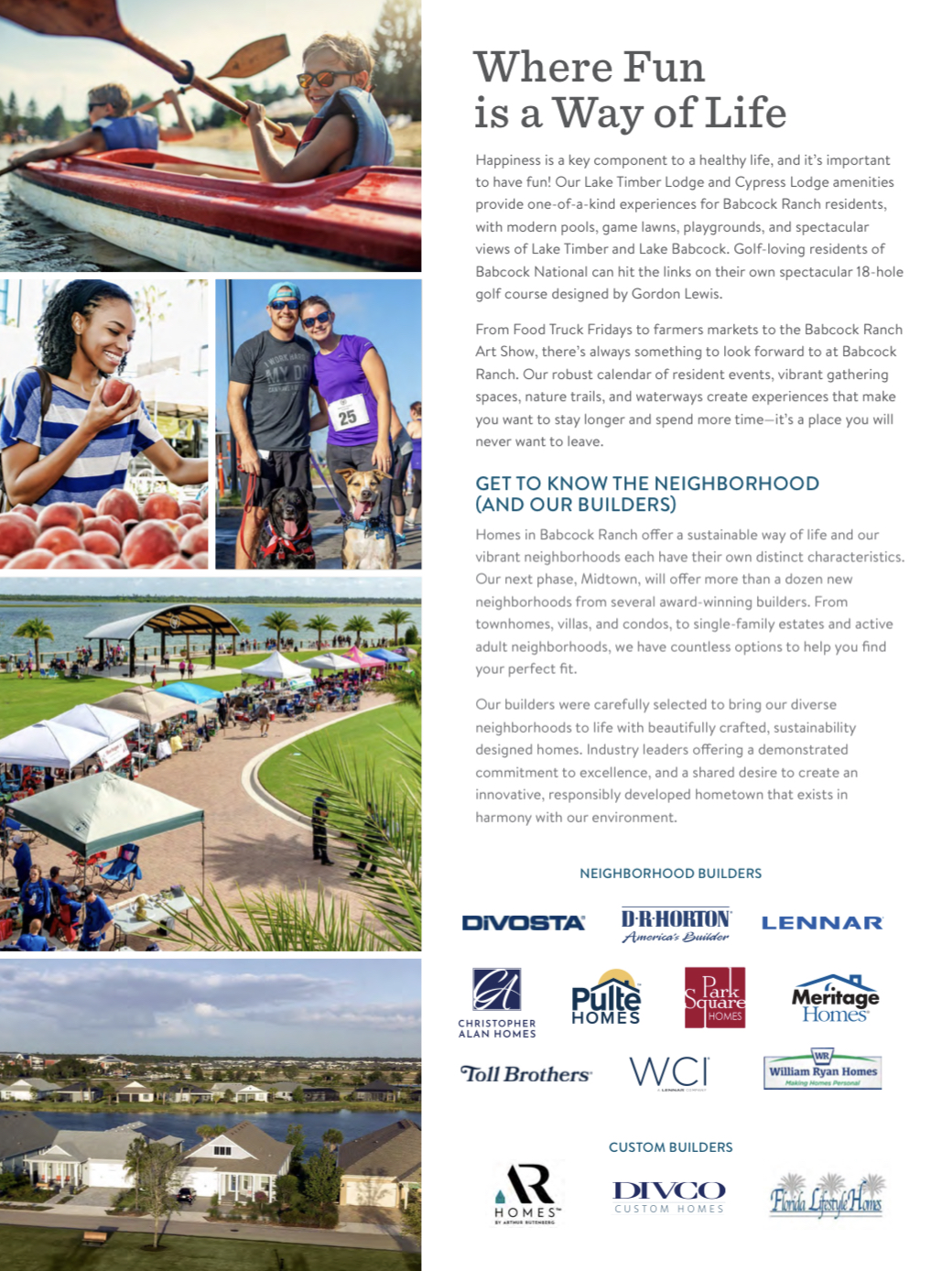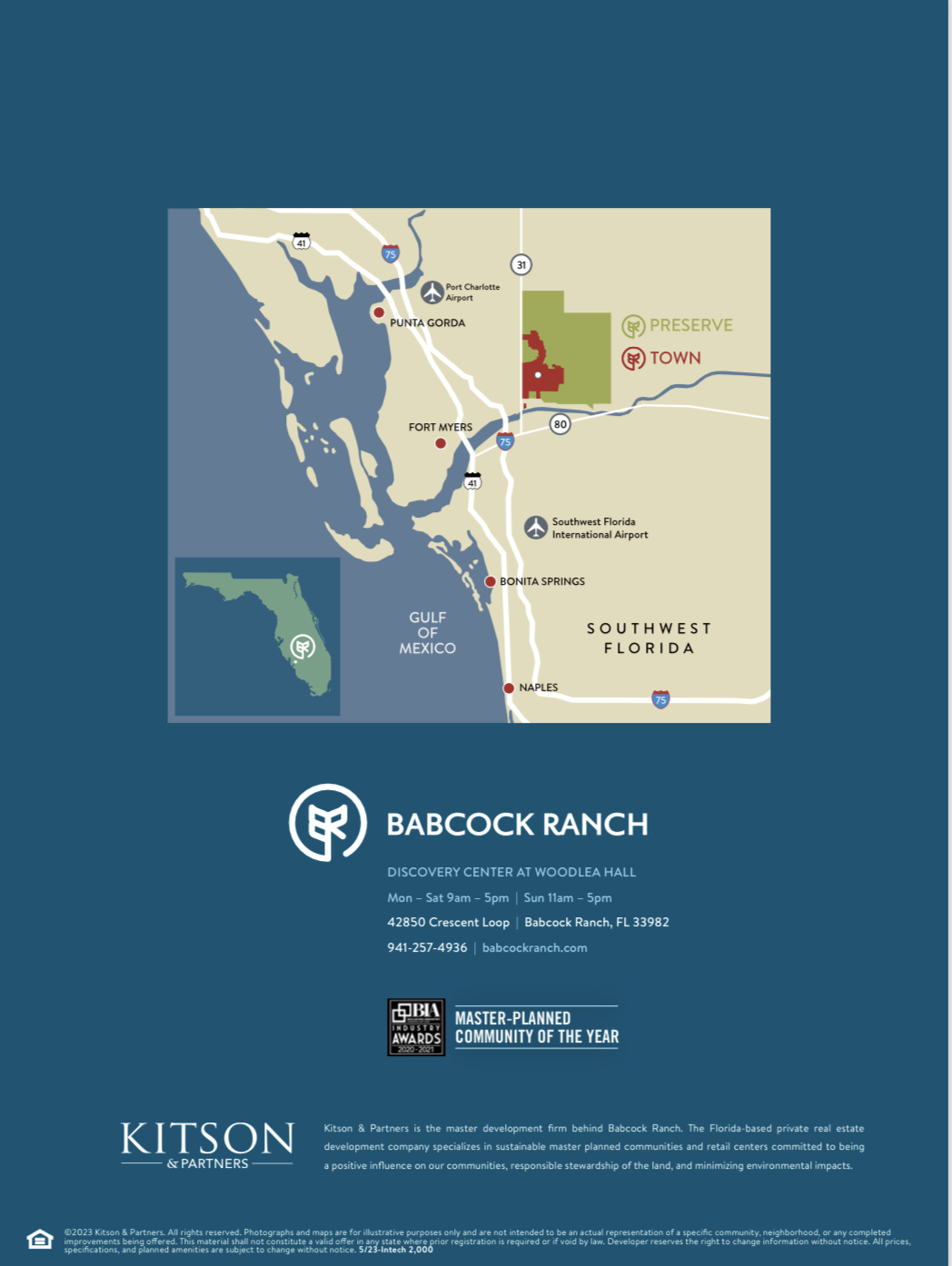 Inside Florida's Solar-Powered Babcock Ranch (video below)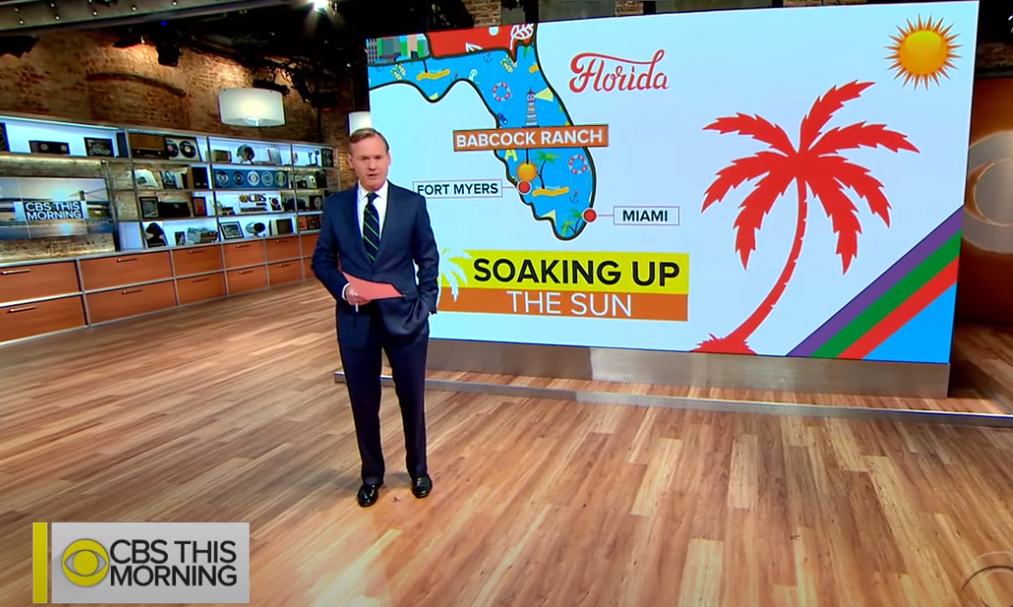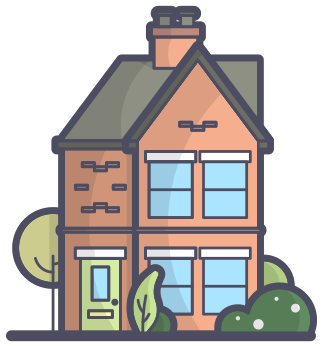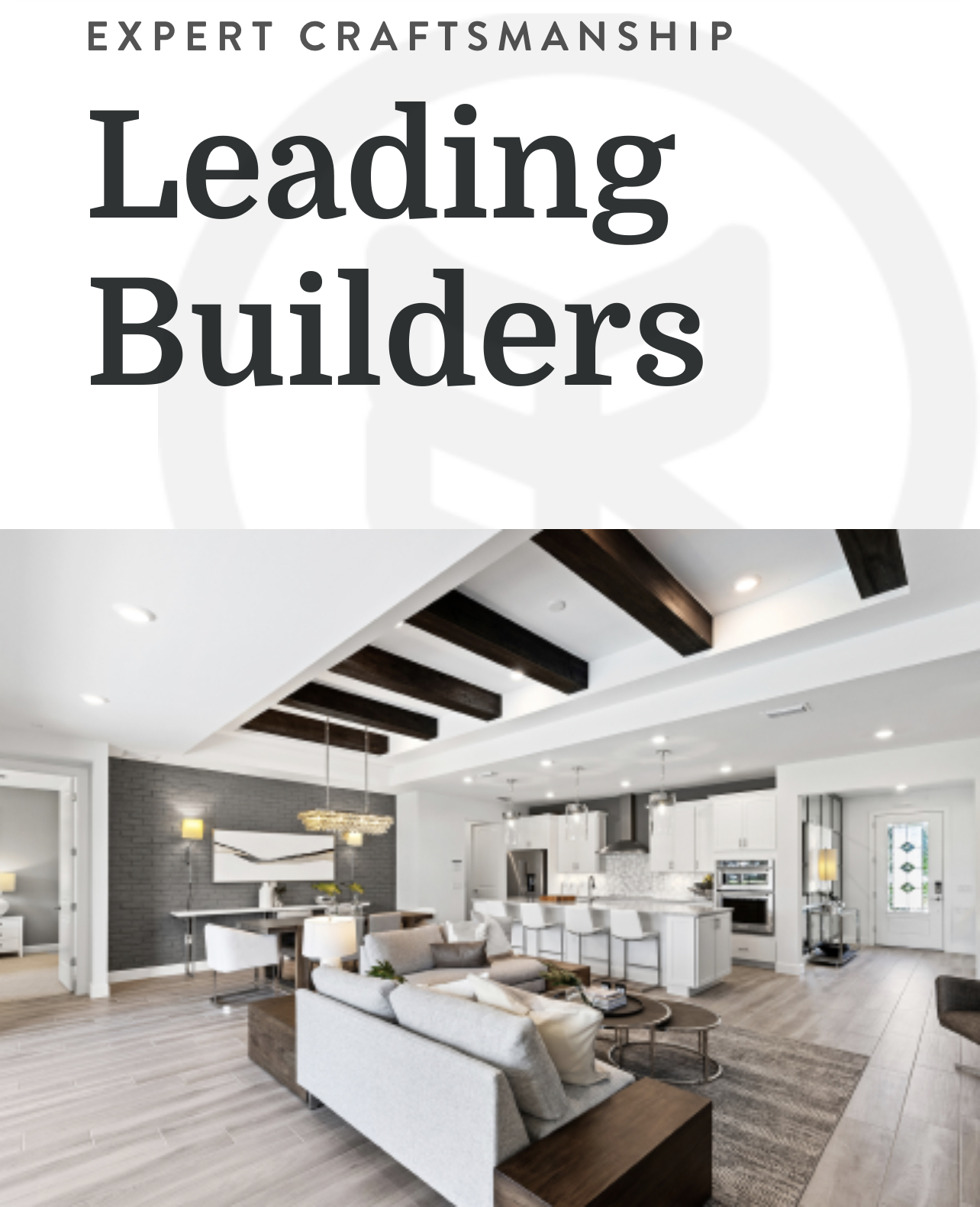 (Click onto below link for floorplans and prices)
https://babcockranch.com/our-homes/builders/
Babcock Ranch Builders: Pulte Homes, D.R. Horton Homes, Lennar Homes, Meritage Homes, Park Square Homes, Florida Lifestyle Homes, Divco Custom Homes, Toll Brothers Homes, William Ryan Homes, Christopher Alan Homes, and Arthur Rutenberg Custom Homes.

See how Babcock Ranch survived Hurricane Ian UNSCATHED (video below)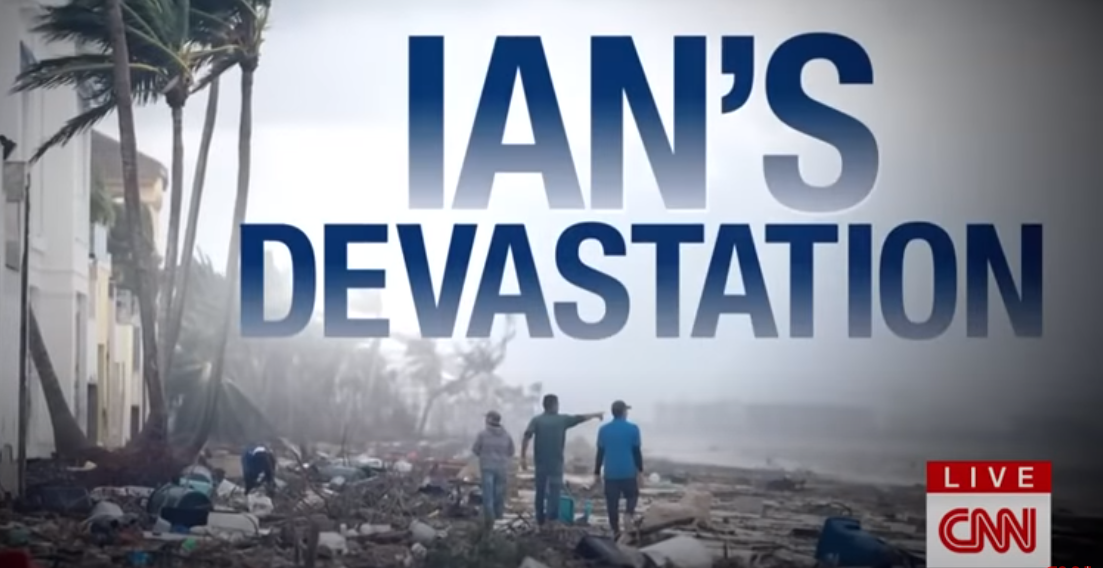 Broadcasted on 60 Minutes - Solar-powered Babcock Ranch takes direct hit from Hurricane Ian, NEVER lost electricity (video below)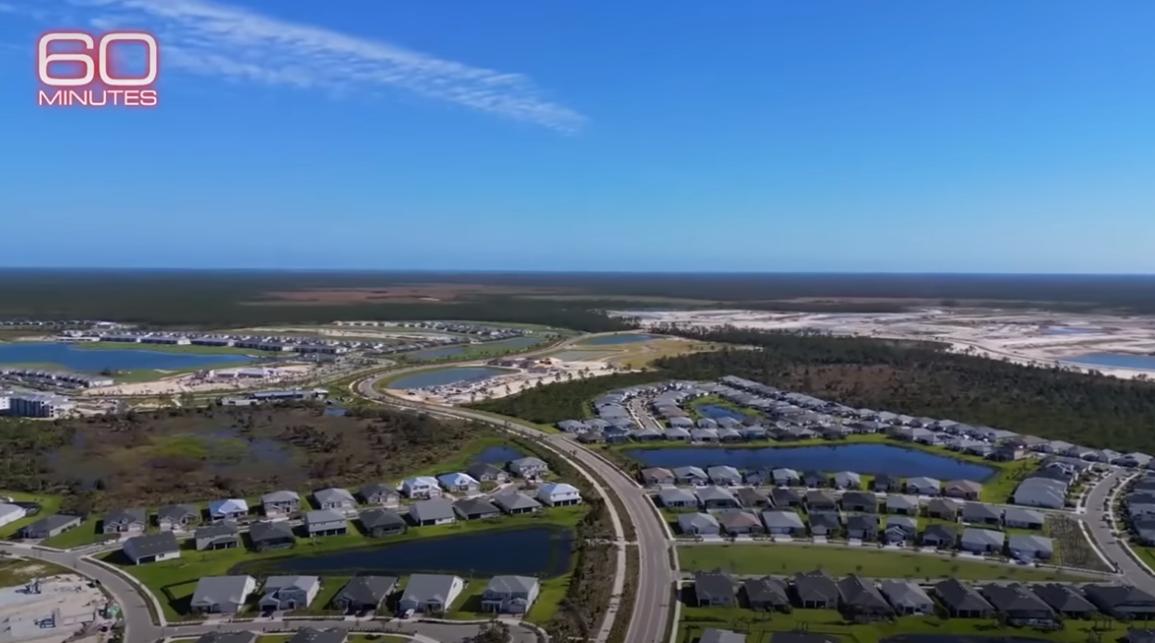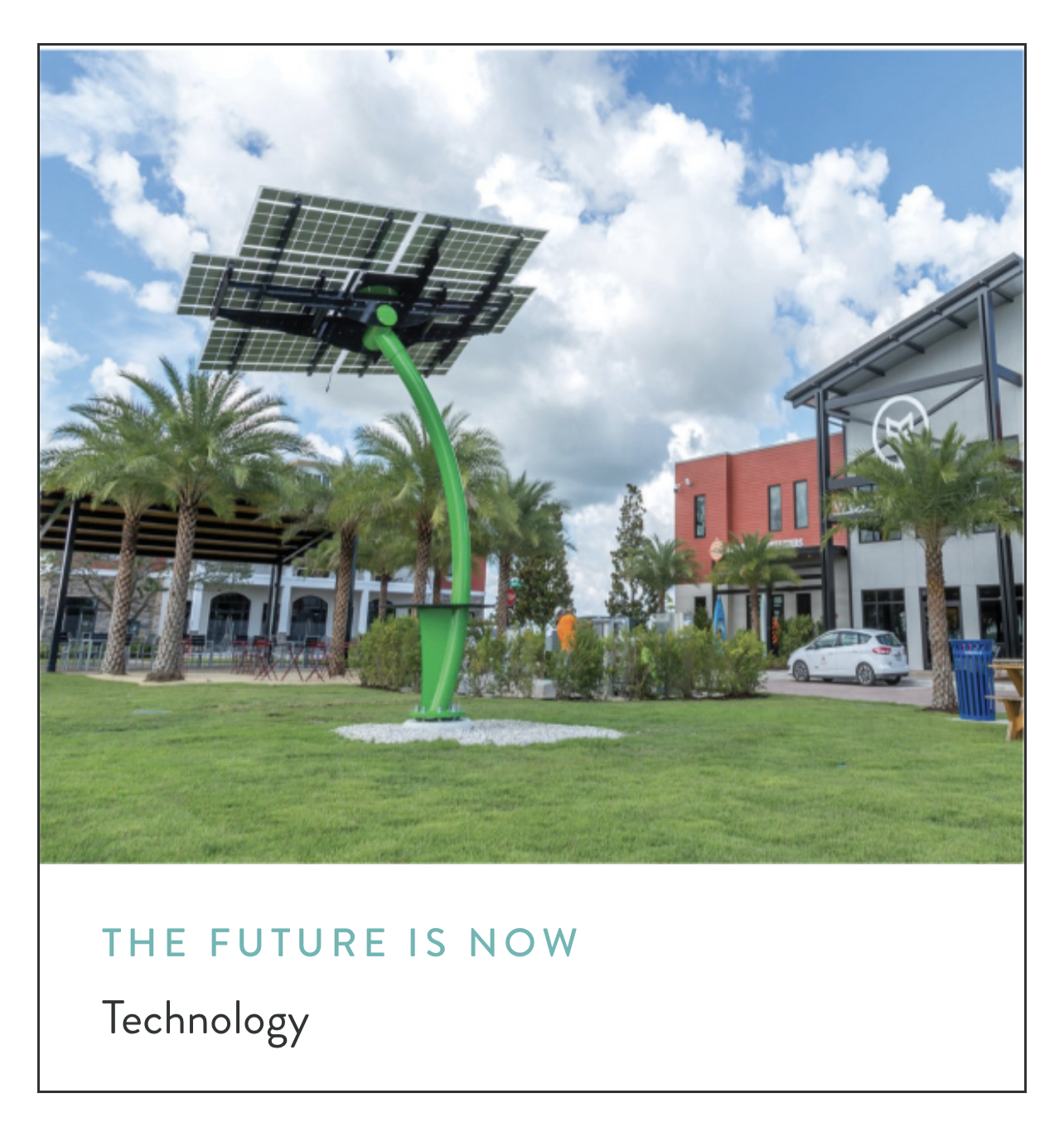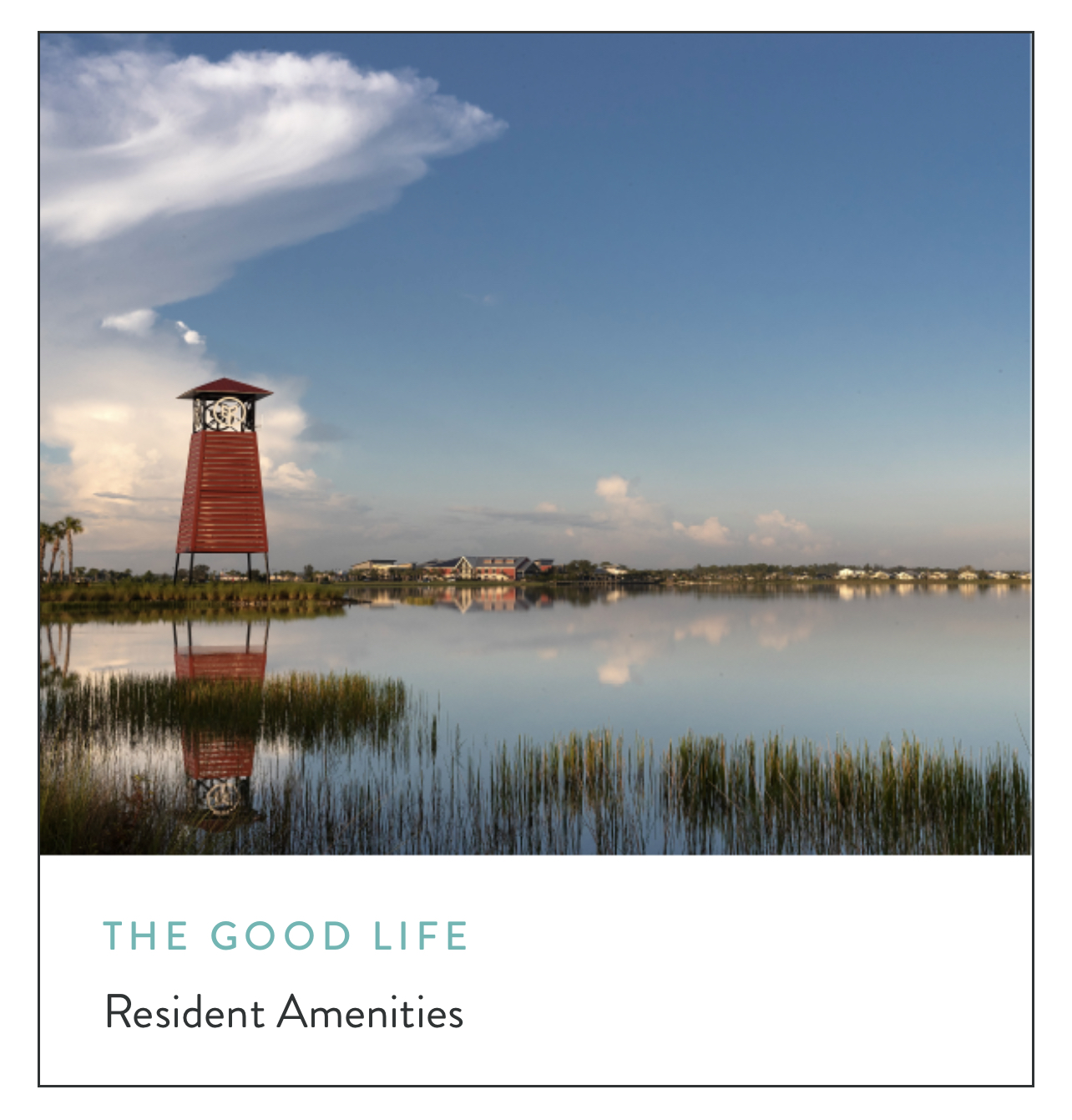 MORE BABCOCK RANCH VIDEOS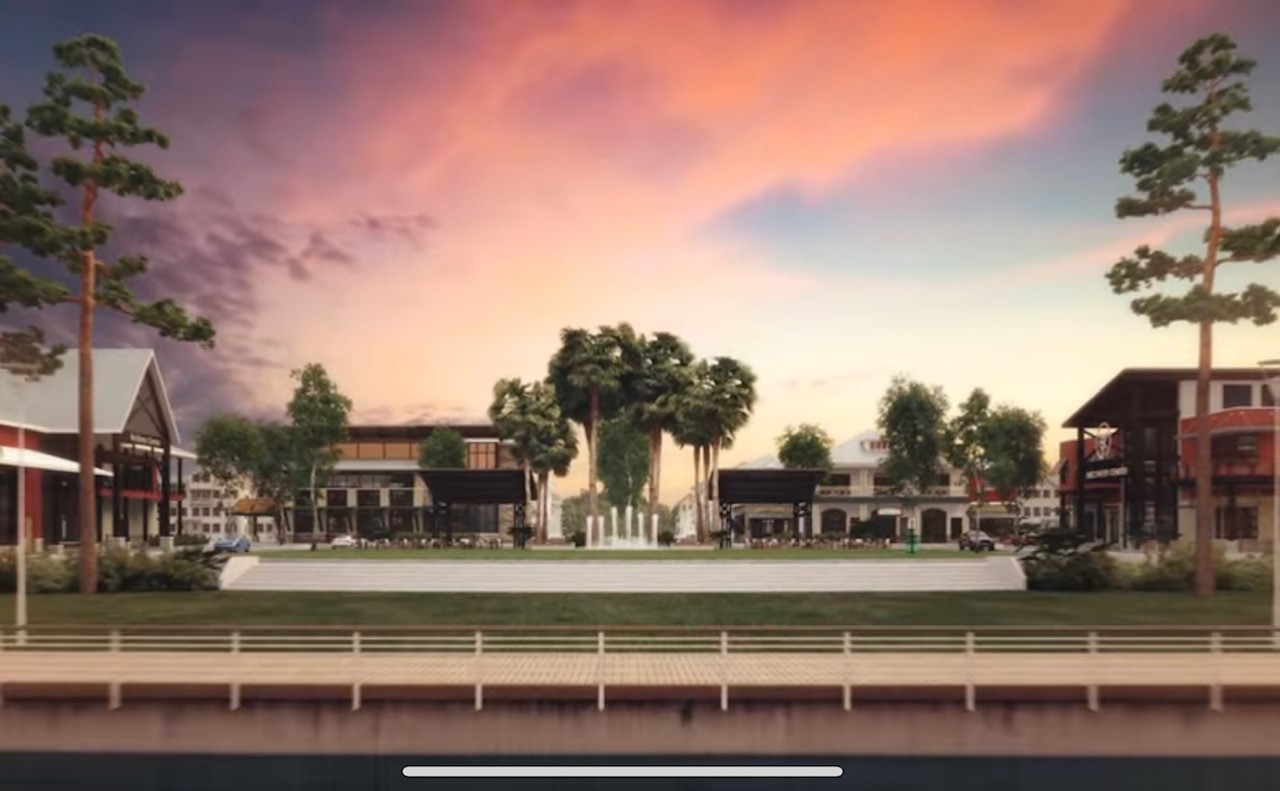 Downtown Babcock Ranch (Video Above)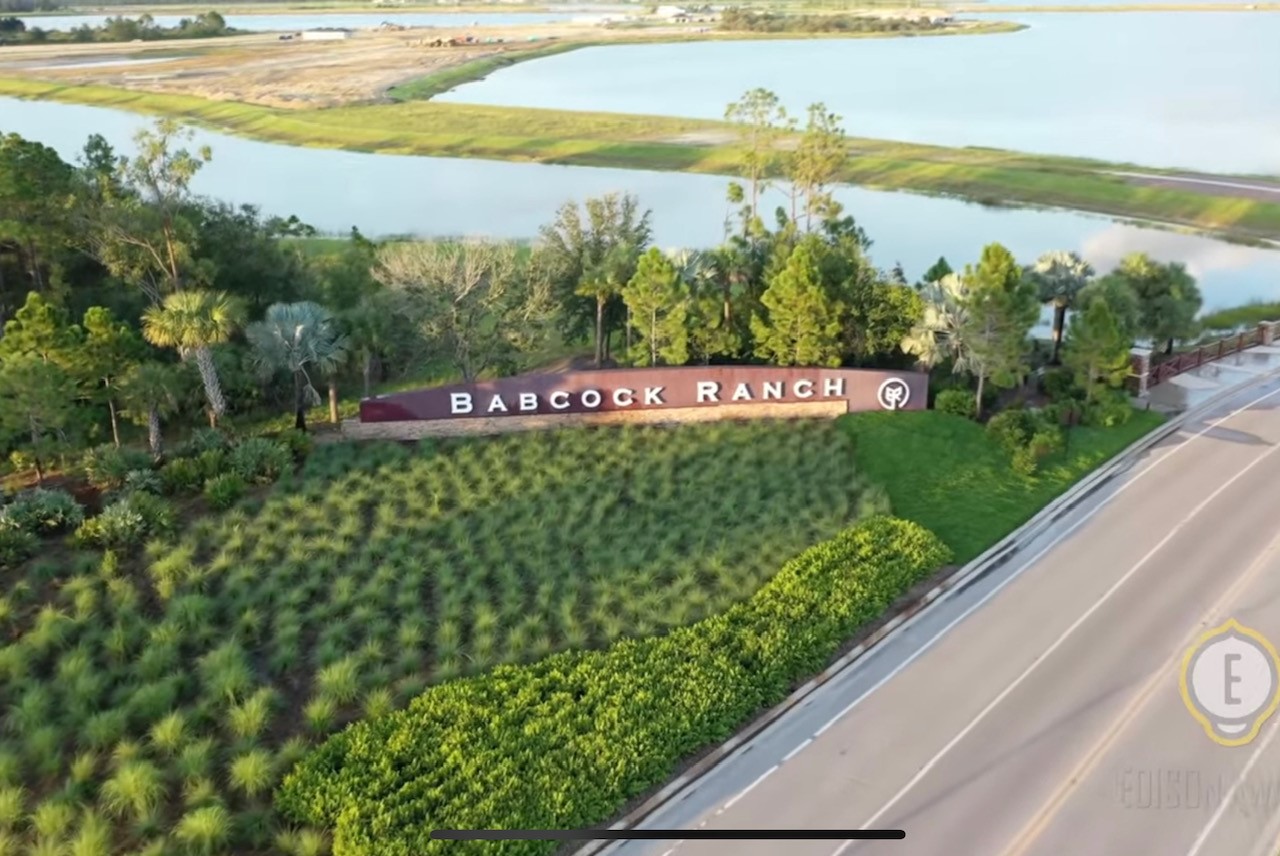 Feeling of NEIGHBORHOOD in Babcock Ranch (Video Above)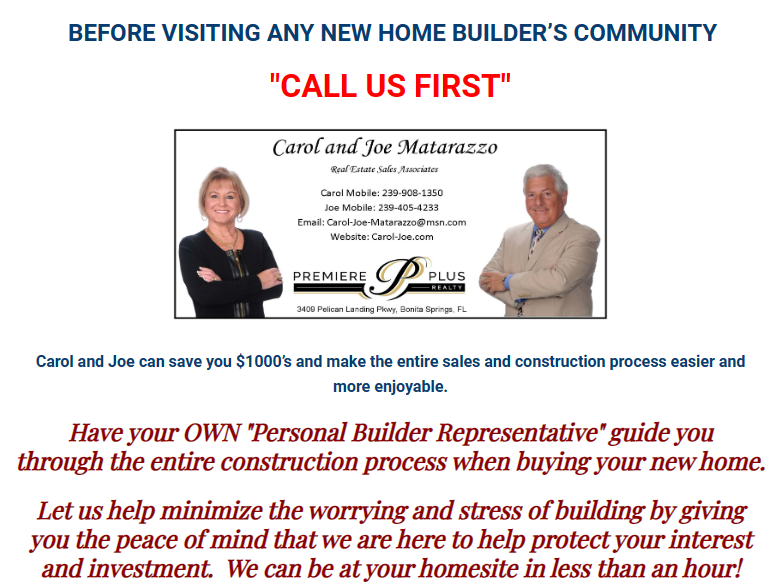 "CALL CAROL AND JOE TODAY TO SCHEDULE A PERSONAL TOUR OF ALL THE MODELS AND SEE FOR YOURSELF ALL THAT BABCOCK RANCH HAS TO OFFER"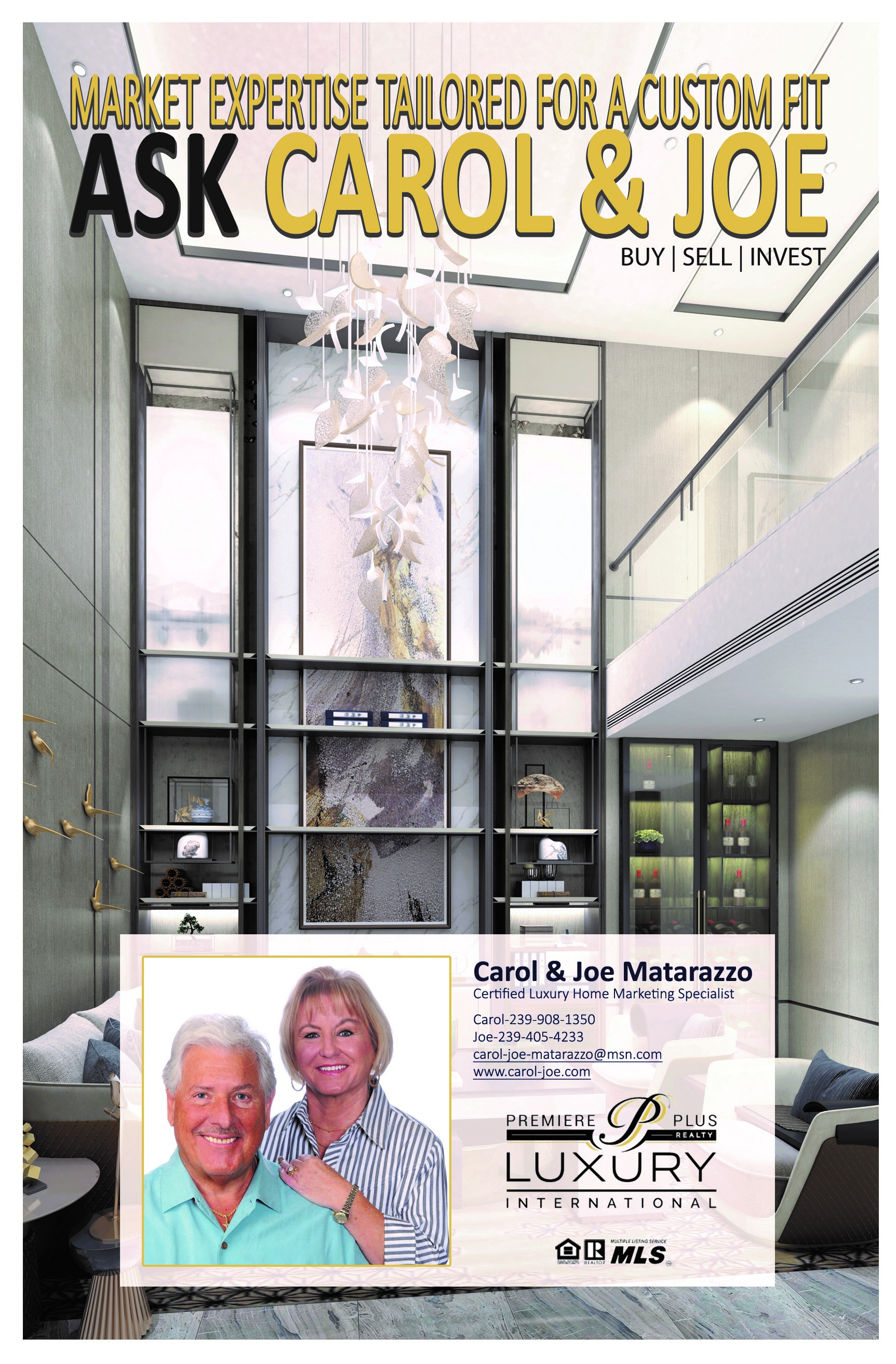 Images and photos that appear on this website are for illustration purposes only and actual homes may vary.
This website is not affiliated with the developer or builders. Some photos and renderings are courtesy of Babcock Ranch.